removal-of-non-cancerous-spot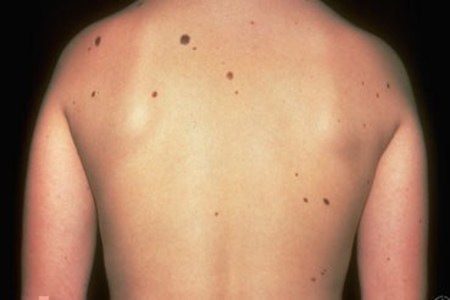 Several skin lesions are very common and almost always benign (non-cancerous). These conditions include moles, freckles, skin tags, benign lentigines, and seborrheic keratoses. However, moles are the most commonly examined for cancer if changes are detected.
Moles are a common type of skin growth. They often appear as small, dark brown spots and are caused by clusters of pigmented cells. Moles generally appear during childhood and adolescence. Most people have 10 to 40 moles, some of which may change in appearance or fade away over time.
Most moles are harmless. Rarely, they become cancerous. Monitoring moles and other pigmented patches is an important step in detecting skin cancer, especially malignant melanoma.
Non-cancerous spots generally present themselves as moles or blemishes on the skin. Babies are highly unlikely to be born with moles as they appear during childhood and the early teenage years. The more moles a person has equates to the greater risk for the occurrence of melanoma. Moles usually appear as small, dark spots and are clustered pigmented cells. There is no known cause for moles; some suggest they are genetic while others believe moles are directly linked to sun exposure.
Symptoms
The typical mole is a brown spot. But moles come in different colors, shapes and sizes:
1) Color and texture: Moles can be brown, tan, black, red, blue or pink. They can be smooth, wrinkled, flat or raised. They may have hair growing from them.
2) Shape: Most moles are oval or round.
3) Size: Moles are usually less than 1/4 inch (about 6 millimeters) in diameter the size of a pencil eraser. Rarely, moles present at birth (congenital nevi) can be much bigger, covering wide areas of the face, torso or a limb.
What happens if your Plastic surgeon is concerned about your mole?
If a plastic surgeon subelieves the mole needs to be evaluated further or removed entirely, he or she will first take a biopsy (small tissue sample of the mole) to examine thin sections of the tissue under a microscope. This is a simple procedure. (If the plastic surgeon thinks the mole might be cancerous, cutting through the mole will not cause the cancer to spread.)
If the mole is found to be cancerous, the plastic surgeon will remove the entire mole by cutting out the entire mole and a rim of normal skin around it, and stitching the wound closed.
What is a skin tag?
A skin tag is a small flap of tissue that hangs off the skin by a connecting stalk. Skin tags are benign and are not dangerous. They are usually found on the neck, chest, back, armpits, under the breasts, or in the groin area. Skin tags appear most often in women, especially with weight gain, and in middle-aged and elderly people.
Skin tags usually don't cause any pain. However, they can become irritated if anything such as clothing or jewelry rubs on them.
What is a lentigo?
A lentigo (plural: lentigines) is a spot on the skin that is darker (usually brown) than the surrounding skin. Lentigines are more common among Caucasian patients, especially those with fair skin, but can occur in anyone.
What are freckles?
Freckles are small brown spots usually found on the face and arms. Freckles are extremely common and are not a health threat. They are more often seen in the summer, especially among lighter-skinned people and people with light or red hair. However, freckles can occur in anyone, and appear as darker brown spots in people with darker skin. Both men and women get freckles at an equal rate.
What causes seborrheic keratoses?
The cause of seborrheic keratoses is unknown. They are seen more often as people get older. They do not lead to skin cancer.